Soil Stabilization for Residential Properties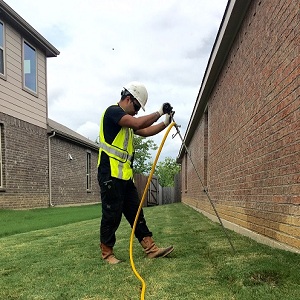 When building a new home or a residential subdivision, you need the soil to remain stable for years to come. If you invest in soil stabilization, you can ensure that your new residential construction is secure moving forward.
Importance & Benefits
Swelling clay soil is a common problem in residential homes. As the soil begins to swell, it shifts, and causes cracks in your home. Our soil stabilization service is guaranteed to prevent any signs of shifting or swelling. The result is a stable foundation, free of cracks or shifting.
Existing Property
For existing residential properties, Earthlok utilizes residential hand injections to completely administer our ionic soil stabilization solution, creating a moisture barrier around your home. Our team is extremely thorough with existing property applications.
New Construction
For new residential construction, we utilize the same techniques and applicator methods as our commercial construction. We use industrial-grade equipment to provide soil stabilization methods before the actual construction process begins. You'll find your newly built home is good for many years to come.
Swimming Pools
Whether you have an existing pool or installing a new pool, the cement used to create its foundation can shift over time due to the surrounding soil. Using our hand applicators, we insert our ionic stabilizer solution into the surrounding soil around the swimming pool. This will prevent your pool from cracking, leaking, and breaking apart.
Schedule residential soil stabilization services with Earthlok today. Give us a call at 972-923-9698!