Chemical Soil Injection Services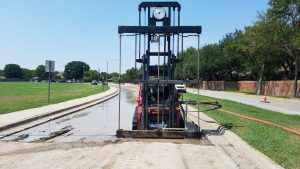 Here at Earthlok, we offer leading soil stabilization services and products designed specifically for new and existing construction here in North Texas. This area faces an abundance of expansive clay soils.
By reducing the swell potential of this soil, we can ensure your construction project is more cost-effective and safer to complete.
For instance, your foundation, with soil stabilization, will be lighter and cheaper to construct. At the same time, it will retain the same level of strength and load-bearing capacity that you've come to expect from a strong foundation.
How? It's simple. In layman's terms, we use chemical soil injection services to help stabilize swelling soil and help it resist water instead of soaking it all up.
When most people hear the word "chemical," they instantly think of toxic, hazardous materials that harm the environment or people. That's not how we operate, though. Our soil stabilization services and products are non-toxic and completely safe for the environment.
Chemical Injection Service Applications
The chemical soil injection process was designed specifically for use in both residential and commercial applications. For example, here at Earthlok, we provide injection services for:
Airports – With high foot and vehicle traffic, a strong and stable foundation is a must-have.
Malls & Shops – Most stores focus their construction efforts on load-bearing capabilities and strength, which expansive soil can disrupt.
Existing Properties – An existing property can enjoy the benefits of chemical injection, as we implement the injections around the existing foundation – deep into the soil – for the best results.
New Construction – Before you lay down the foundation, Earthlok will help stabilize the soil, allowing you to waste less money and fewer materials on a thick, deep foundation.
When to Use Soil Injection Services
Chemical soil injection services are the perfect remedy for when soil movement has begun to affect a small portion of the foundation. Most often, it's best to use the process when you experience an uplift of less than 1.5 inches that has not reached 15 feet toward the interior of the home or commercial property.
It's important to note that the chemical injection process does not reverse current uplift. It can, however, help prevent any further damage to the property. The upheaval will cease. The aim of soil stabilization is to totally reduce the soil swell that causes property damage.
For your next construction project or an existing property, consider chemical injection services for soil stabilization. Call Earthlok at 972-923-9698.